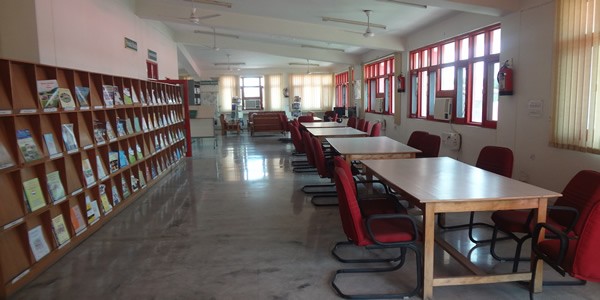 Nothing is pleasanter than exploring a library. UIRDPR Library is an important unit for Research, Training, Consultancy and Documentation.
The Library & Documentation centre is an important unit of UIRDPR for Research, Training, Consultancy and Documentation on Rural Development and Panchayati Raj in Uttarakhand.Its main objectives is to facilitate access to literature on Rural development by collecting published and unpublished material on all aspects of Rural development. One reading hall is located in front of the Library for reading purpose. There are approximately 1600 books displayed in the Library. The collection is classified under various topics, like Rural Development, Panchayati Raj, Computer,Psychology,Education,ManagementEconomics,Political,Science,Agriculture,, sociology,Environment,Ecology, Financial hand books,Philosophy, Law and Literature. UIRD subscribes nearly 74 magazines, periodicals and Journals. In addition UIRD subscribes to two dailies in Hindi and four dailies in English for the benefit of the participants.
The library is kept open half hour before and One hour after Office hours. In the Reference shelf the books like Encyclopedia, gazetters,various law Acts of Uttar Pradesh, Panchayats Act of all the Uttarakhand States, Dictionary, Thesaurus, and valid documents of the Government are available. In addition to this the all Books are classified in Libsys Package by author title, Subject wise etc.Libsys is an Integrated single-user library Information management system which runs on windows environment in our context.The differnt modules provided under LIBSYS are : Acquisition,Cataloguing, Circulation,Serials, Indexing and Abstracting System corresponding to various differnt library operations and Public access system.